Due to its many benefits, glass packaging, is on the rise for both fragrance
and cosmetics.
Plastic packaging technologies have come a long way in recent years, but glass continues to reign in the realm of upscale fragrance, skincare and personal care packaging, where quality is king and consumer interest in "natural" has grown to include everything from formulations to packaging.
"There are many benefits in using glass in comparison to other materials," says Samantha Vouanzi, beauty manager, Estal. "By using glass, you appeal to several senses—Sight: the glass shines, and is a reflection of perfection; Touch: it's a cold material and appeals to a pureness of nature; Weight: the sensation of heaviness drives a feeling of quality. All these sensorial feelings cannot be transmitted with another material."
Grandview Research valued the global skincare market at $135 billion in 2018, with the projection that the segment was poised to grow 4.4% from 2019-2025 thanks to the demand for face creams, sunscreens and body lotions. Increased interest in natural and organic skincare products has also grown, thanks in large part to the awareness surrounding the adverse effects of synthetic ingredients and the subsequent desire for more natural ingredient alternatives.
Federico Montali, marketing and business development manager, Bormioli Luigi, observes that there has been a movement toward increased "premiumization"—a shift from plastic to glass packaging—predominantly in the skincare category. Glass, he says, delivers a critically important property for a primary packaging material: chemical durability. "[Glass] is chemically inert, ensuring the compatibility with any beauty product, including highly unstable natural skincare formulations," he says.
The global perfume market, which has always been a home for glass packaging, was valued at $31.4 billion in 2018 with growth projected to rise nearly 4% from 2019-2025, according to Grandview Research. While the sector continues to be driven by personal grooming and income-driven personal spending, key players are also focusing on introducing natural fragrances in the premium category, primarily due to rising concerns over allergies and toxins in synthetic ingredients. According to the study, approximately 75% of Millennial women prefer buying natural products, whereas more than 45% of them favor natural-based "healthy perfumes."
Among the glass packaging trends in the beauty and fragrance segments is the uptick in "disruptive" designs, embodied by innovative shapes featured in the outer or inner molded glass. For example, Verescence manufactured the sophisticated and complex 100ml bottle for Illuminare by Vince Camuto (Parlux Group) using its patented SCULPT'in technology. "The innovative design of the bottle was inspired by the glassworks from Murano, evoking the feminine and sensual curves of a woman," explains Guillaume Bellissen, vice president, sales and marketing, Verescence. "The asymmetrical organic inner shape…[creates] a play of light with the rounded outer shape of the molded glass and the delicate pink hued fragrance."
Bormioli Luigi achieved an equally impressive display of innovation and technical skill with the creation of the bottle for the new feminine fragrance, Idôle by Lancôme (L'Oréal). Bormioli Luigi makes the 25ml bottle exclusively and shares the manufacturing of the 50ml bottle in double sourcing with glass supplier, Pochet.
"The bottle is exceedingly slim, geometrically faced with extremely uniform glass distribution, and the walls of the bottle are so fine that the packaging becomes practically invisible to the benefit of the perfume," Montali explains. "The most difficult aspect is the thickness of the bottle (only 15mm) which makes the glass forming a unique challenge, first because the introduction of glass in such a thin mold is at the limit of feasibility, second because the glass distribution has to be even and regular all along the perimeter; [it's] very difficult to obtain with so little room to maneuver."
The bottle's slim silhouette also means that it cannot stand on its base and requires special features on production line conveyor belts.
The decoration is on the outer perimeter of the bottle and [is applied by gluing] metal brackets on the sides of the 50ml and, with a similar effect, a partial spraying on the sides of the 25ml.
Intrinsically Eco-Friendly
Another unique and desirable aspect of glass is that it can be infinitely recycled without any deterioration in its properties.
"Most glass used for cosmetic and fragrance applications is made from natural and sustainable materials including sand, limestone, and soda ash," says Mike Warford, national sales manager, ABA Packaging. "Most glass packaging products are 100% recyclable and can be recycled endlessly without loss in quality and purity [and it's] reported that 80% of the glass that is recovered is made into new glass products."
"Glass is now recognized as the most premium, natural, recyclable and environmentally-friendly material by the majority of consumers, especially among Millennials and Generation Z," comments Verescence's Bellissen. "As a glassmaker, we've seen a strong move from plastic to glass on the premium beauty market for the last two years."
The current trend embracing glass is a phenomenon Bellissen refers to as "glassification." "Our customers want to de-plasticize their beauty packaging in all high-end segments including skincare and makeup," he says, pointing to Verescence's recent work with Estée Lauder to transition its bestselling Advanced Night Repair Eye Cream from a plastic jar to glass in 2018.
"This glassification process resulted in a more luxurious product, all while commercial success was achieved, perceived quality significantly increased, and the packaging is now recyclable."
Eco-friendly/recyclable packaging is one of the top requests received by Coverpla Inc. "With our eco-friendly line of fragrance bottles and jars, consumers can recycle the glass, and also the product is refillable which eliminates excess waste," says Stefanie Peransi, inside sales.
"Companies are adopting refillable packaging more with the demand of eco-friendly being important in many companies' morals."
Coverpla's latest glass bottle launch is its new 100ml Parme bottle, a classic, oval and round-shouldered design that features shiny gold silk-screening, which the company says illustrates how the use of precious metals can work in harmony with glass to elevate a standard product into a premium, luxurious one.
Estal designs and creates elaborate packaging projects with a focus on innovation and maximum creative freedom, testing new materials, shades, textures and applying new technical and decorative solutions. Among Estal's catalogue of glass products are several ranges that are driven by design and sustainability.
For instance, Vouanzi points to the Doble Alto perfumery and cosmetic range as one-of-a-kind in the market. "The Doble Alto is a patented technology developed by Estal, which allows an accumulation of glass suspending upon a holed bottom," she says. "This technology took us several years to be fully elaborated."
On the sustainability front, Estal is also proud to have produced a range of 100% PCR glass in automatic machines. Vouanzi expects that the product, called Wild Glass, will be of particular interest to international beauty and home fragrance brands.
Achievements in Lightened Glass
Complementing recycled glass is another eco-friendly glass alternative: lightened glass. An improvement on traditional recycled glass, lightened glass significantly decreases the weight and external volume of a package, while also substantially reducing overall raw material use and carbon dioxide emissions across the supply chain.
Lightened glass is at the core of Bormioli Luigi's ecoLine, a range of ultra-light glass bottles and jars for cosmetics and fragrance. "They are eco-designed to have pure and simple shapes and to be as light as possible to reduce material, energy and CO2 emissions," explains the company's Montali.
Verescence partnered with Guerlain to lighten the glass in its Abeille Royale day and night care products, after experiencing success with reducing the weight of its Orchidée Impériale jar in 2015. Verescence's Bellissen says Guerlain chose his company's Verre Infini NEO (incorporating 90% of cullet from recycling including 25% post-consumer cullet, 65% post-industrial cullet and only 10% of raw materials) for the Abeille Royale day and night care products. According to Verescence, the process yielded a 44% reduction in carbon footprint over one year (approximately 565 tons less CO2 emissions) and a 42% reduction in water consumption.
Luxury Stock Glass that Looks Custom
When brands think high-end glass for fragrance or beauty, they mistakenly assume that equals commissioning a custom design. It's a common misconception that only custom bottles can deliver a high-end value experience because stock glass packaging has come a long way.
"High-end fragrance glass is readily available as shelf-stock items in a wide variety of sizes and styles that are popular choices," says ABA Packaging's Warford. ABA has provided high quality shelf-stock luxury fragrance bottles, mating accoutrements and decorating services to the industry since 1984. "The quality, clarity and overall distribution of the glass on these high-end stock fragrance bottles is on par with custom bottles made by some of the very best manufacturers in the world."
Warford goes on to say that these shelf-stock bottles which, in many cases, can be sold in very low quantities, can be decorated quickly and economically with creative spray coatings and printed copy to provide the branding-look that the buyer is seeking. "Because they have popular standard neck finish sizes, the bottles can be mated with the very best fragrance pumps and a large variety of luxury fashion caps to compliment the look."
Stock Glass with a Twist
Stock glass bottles proved to be the right choice for Brianna Lipovsky, founder of Maison D' Etto, a luxury fragrance brand that recently debuted its first curated range of gender-neutral, artisanal fragrances, created to "inspire moments of connection, refection, well-being."
Lipovsky painstakingly approached every element in the creation of her packaging with meticulous attention to detail. She determined that the cost of stock molds and MOQs on 50,000 custom units was cost prohibitive to her self-funded brand. And after exploring more than 150 bottle designs and sizes from various manufacturers., Lipovsky ultimately selected a uniquely shaped, 60ml stock bottle from Brosse in France, paired with a boldly sculptural, domed cap from Siloa that appears to float over the round glass bottle.
"I fell in love with the shape of the bottle in proportion to the cap so even if I did custom, it wouldn't have made much of a difference," she says. "The bottle fits nicely into both a woman's and a man's hand, and it also has a nice hold and hand feel for someone older that may have arthritis."
Lipovsky concedes that although the bottle is technically stock, she commissioned Brosse to triple sort the glass used to construct her bottles in an effort to ensure the final product was of the utmost quality and craftsmanship. "The sort was to search for even distribution lines in the glass—top, bottom and sides," she explains. "They were unable to flame polish the batch that I had to buy from as they make millions at a time, so we also had them triple sort for the least amount of visibility in the seams."
The fragrance bottles were further customized by Imprimerie du Marais. "We designed a simple and sophisticated label using an uncoated Color Plan paper with a cord texture, which brings to life the architectural and patterned aspects of the brand with a gorgeous green silkscreen for the type," she says.
The end result is a product Lipovsky is immeasurably proud of. You can make the most basic stock forms look insanely good with taste, design and attention to detail, which epitomize luxury in my opinion," she concludes.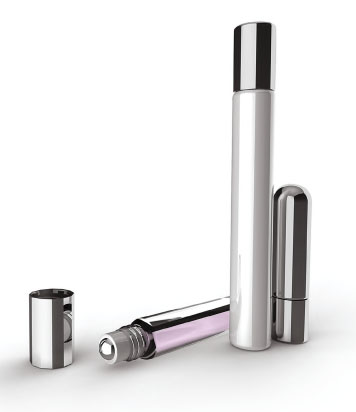 ---
Post time: Mar-18-2021