Innovative applications, eco-friendly materials, startling sample packs, and unusual sprays emerge to address consumer trends driven by sustainability, generational shifts, and the continued digital revolution.
Perfume, an emblematic product of the beauty world, is constantly reinventing itself to multiply innovations that delight us. Imagination remains essential for this beauty segment in constant progression, as evidenced by the figures. For 2019, the world of beauty amounted 220 billion Euros posted growth of 5.0% compared to 2018, (5.5% growth in 2017) with more than 11% devoted to fragrances. For 2018, total fragrances amount to $50.98 billion with 2.4% growth compared to 2017. Ten years ago, in 2009, the total fragrance rose 3.8% vs. 2008 to $36.63 billion.
This overall growth in the beauty world owes a lot to the development of the luxury sector (+11% of sales in 2017), sales in Asia (+ 10% of 2017 sales), ecommerce (+ 25% of 2017 sales), and travel-retail (+ 22% of 2017 sales). Since 2018, the world perfume market amounted to C with projections for the first half of 2019 that lead to double this market value in the next four years!
Packaging, a fundamental asset for the beauty universe, plays an essential role in the recognition of a brand or cosmetic product. Indeed, for cosmetics, packaging's marketing value largely exceeds its primary function of product protection. This marketing impact of the pack — evaluated at 82% for all industry sectors — increases to 92% in the cosmetic universe. The high percentage is partially attributed to the specific effect of the materials used (48% innovation lever for cosmetics) and the wording associated with packaging (20% innovation lever for cosmetics).
For perfumes, the bottle remains an unavoidable sign of recognition of a well-known fragrance. But new products have arrived. Recognized stars who have always been associated with fragrances now have competition from new celebrities and their "tailor-made creations" for brands and products.
Now, traditional perfume bottles coexist with packages in sometimes very unusual shapes, blurring boundaries between established and novel universes. In any case, technique and materials must follow the imagination of the creators!
Innovation in packaging includes shapes and materials, with this inescapable idea of eco-sustainability, which is also shared for formulations.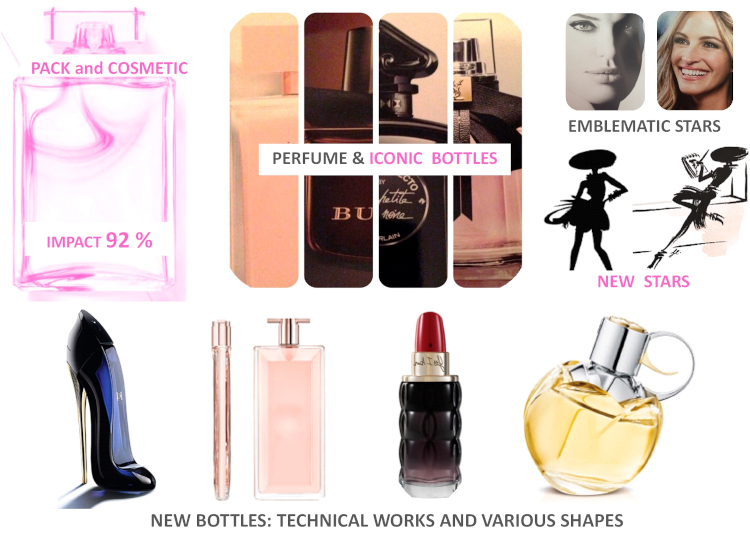 ---
Post time: May-25-2021